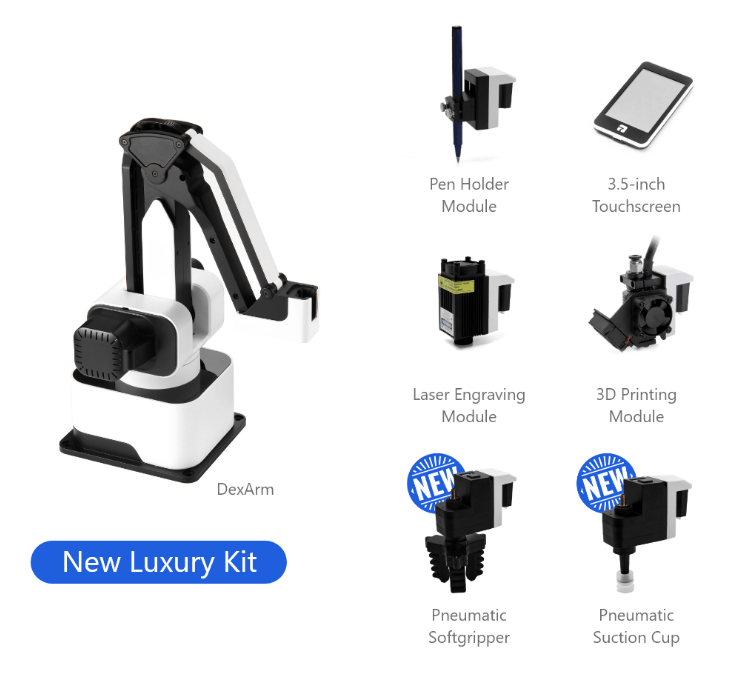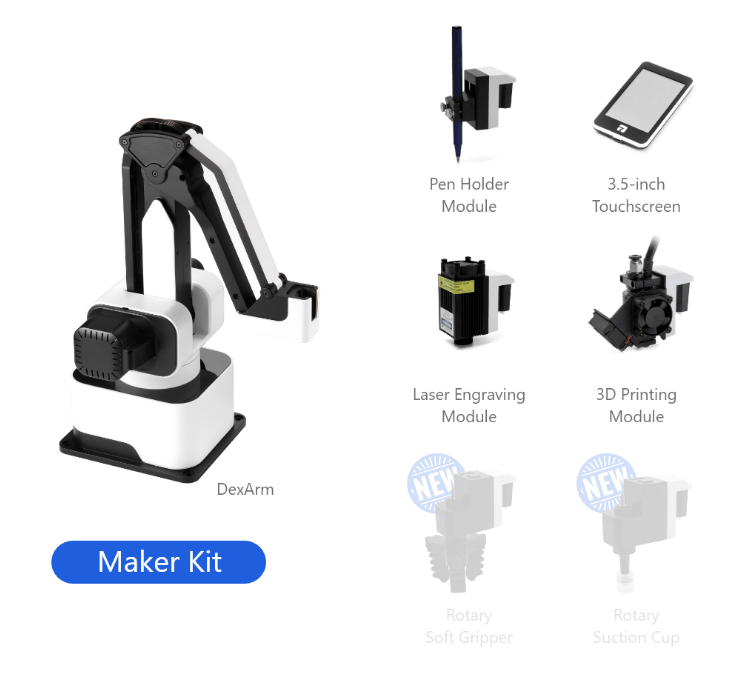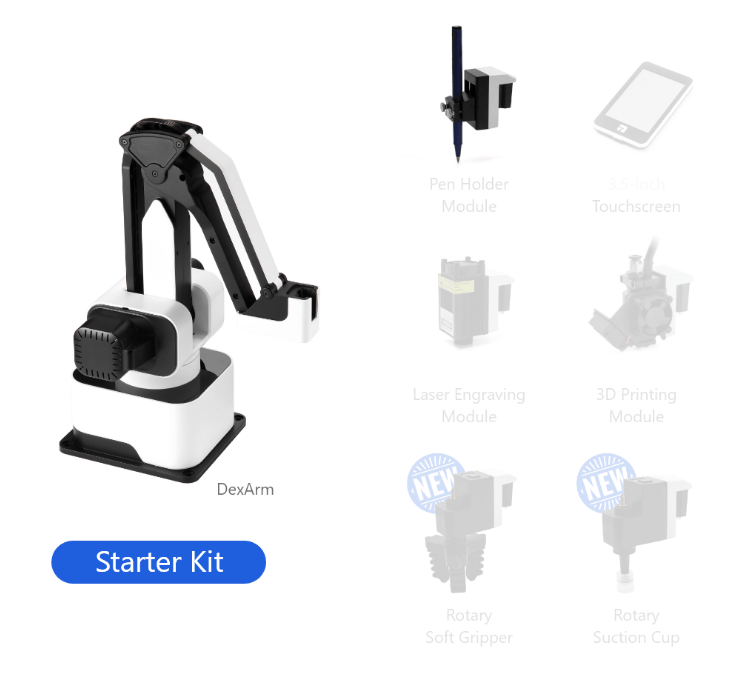 Bring your ideas to life
with DexArm
Specs Summary
Huge Working Area
2D: Bigger than 210 x 297mm (8.3 x 11.7 inch)
3D: Bigger than 220x220x270 mm(8.6x8.6x14.9 inch)
Software
Drawing, laser, 3d print. All functions covered.
Works with Mac, PC
Work with STL, OBJ, PNG, JPEG, SVG, and more.
Hardware
Precise to 100 micron
Four degrees of freedom
500 gram payload
Rich I/O for DIY needs

FAQs
What's the warranty of Rotrics?
We will provide a one-year warranty from the day you receive the product. We will guarantee all modules and Rotrics arm. We will strive to replace or repair any defective products when used in accordance with our instructions. We require proof of pledge/purchase. The warranty applies only to the original purchaser. The consumables are not covered in the warranty.
Will there be any manuals or video tutorials?
Of course, we have provided online user manuals and video tutorials. Please check the following links for the details. online user manual: https:/manual.rotrics.com/, video tutorials: https://bit.ly/2Vqv2UD
What power supply unit will be shipping with Rotrics? Will it work in my country?
The power supply unit can run on 100-240V AC and can be used universally throughout the world. We will ship to different regions with the region's corresponding power plug.
What are the programming languages Rotrics used?
Rotrics provide API for using C, C++, Python, Java, Javascript, and ROS
Are taxes, VAT or duties are included?
Taxes, VAT and/or duties are not included in the prices and may be added in accordance with your local regulations.
Which kit is right for you?
Great way to enjoy robotics
The Product is very well made and the service and feedback from Rotrics support is 5 stars. The Dexarm is easy to setup and even program using the marlin code or the scratch function in rotric studio. I'm looking forward to the future software and firmware updates :)
Awesome
Awesome robotic arm, works great
Hobby
I haven't had time yet to test the robot.
Inspiring
Good price performance ratio inspiring to think about more robotic applications.
Rotrics all in one desktop robot
I'm german and definitely not that easy
but the robots from Rotrics and the company is really trustworthy.
We have received an overnight answer to every question we had.
The Rotrics team is very dedicated and I am sure they will achieve high customer satisfaction with the service and the product they offer.

My 12-year-old daughter was enthusiastic, she had already had programming lessons in school, but it was purely theoretical, with the Rotrics robot she was now able to use the programming commands she had learned for the first time.
Thank you Rotric's team for the excellent service you provided.
Ludwig Fleiner